Lucy Fawcitt is our Sponsored junior rider
Lucy's blog:
August was definitely a month filled with ups and downs! Our time at the Welsh dressage championships was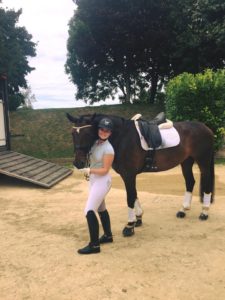 fantastic; it was our first win at any kind of championship! We also achieved our highest score yet at 69% in the advanced medium. Although, this 'up' was short lived. At the end of the month we headed up to Lincolnshire for our favorite show of the year, Sheepgate. Unfortunately Corrie was not feeling herself and decided dressage was not her thing in all of our tests! This meant we achieved some of our lowest scores to date and some interesting pictures from the photographer!
On our return we noticed a massive change in her behavior in the field/stable. After some careful observation we realized our lovely lady was in season for the last time of the year. It was so reassuring to know there was a reason for the way she was acting. It was a useful reminder that horses are not machines and they have good days and bad days, just the same as us. It is safe to say she was spoilt with massages from the Cyclossage rug and a few duvet days for recovery! After all, she did deserve it considering her rider had been spoiling herself with trips to Greece and Newquay. Results aside, Sheepgate proved to be a fantastic show for meeting up with friend, we had so many laughs and great memories made. It is so incredibly to support your fellow riders through
Next up was a trip to the Unicorn trust to train with Under 21's UK. Here we had some super training sessions with Emma, who has recently coaching for Carol, lucky for us! Both our tests went very well and we even achieved a 70%. We are so very lucky to be able to go through our tests in that stunning indoor arena with a judge, but with a relaxed atmosphere. An added bonus- I was ranked highest scoring rider over the whole weekend! Carol is so fabulous at what she does for all of the under 21's kids, which is proven by the fact this is our seventh year attending the camps.
Now we are back to reality and the prospect of starting school again is looming over me. Although I will miss all of the free time I had to spend venturing round in our lovely lorry with mum and Corrie, I am looking forward to getting back into routine with the gym, A levels and riding. Unfortunately, this year we are unable to attend GB viewing. So we have reconstructed our plan and decided to go to as many premier leagues etc as we can and test riding sessions. I am feeling positive about this season.
Lucy x